Home › What we do

Utility reinstatement to a higher standard.
That's the Walton Way.
We believe that utility reinstatement should be done once and done well. To that end, we provide our clients with a higher standard of utility reinstatement – and a higher standard of customer service.
At Walton, we have developed our services, skills and capabilities to meet the ever-present challenge of time and budget, and the need to undertake work with due consideration to health and safety, environmental impacts and the ever-changing requirements of local authorities.
Benefit from a fast, flexible utility reinstatement service
We operate and administer utility reinstatement contracts across Southern England, covering Somerset, Wiltshire, Gloucestershire, Dorset, Devon, Cornwall, Hampshire, Sussex, Berkshire and Oxfordshire. We are also happy to discuss contracts for work further afield.
While all our work is controlled from our Millbrook depot and head office in Shepton Mallet, Somerset, we also operate satellite depots in Poole, Southampton, Exeter, and Aldermaston to ensure we provide a fast and reliable service across the entire region.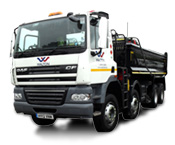 We operate a modern, carefully commissioned fleet of over 100 vehicles comprising 32t grabs, 26t tipper grabs, 18t hotboxes, 18t tippers, 12t hotboxes, 7.5t tippers, 3.5t tippers, 3.5t panel vans and crew cabs. In conjunction with our skilled workforce of more than 100 people, this comprehensive fleet enables us to adapt to any utility reinstatement requirement and manage every size of workload.
Keep your finger on the pulse of your project
with WorkWatch
Wherever and whenever your project takes place, you can follow its progress thanks to WorkWatch, our advanced client extranet.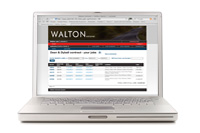 This highly regarded system gives you instant access to the status of a job at a given point in time, and allows you to review the details of completed works. You can even obtain barrier lists for a specific date, review costs and perform searches for any other kind of project-related data you require.
WorkWatch is easy to use and can be accessed from any PC, tablet or smartphone. However, should you need it, we'll provide you and your colleagues with training and support free of charge.

To learn more about why companies trust Walton with their utility reinstatement contracts, read on ›
To discuss your company's utility reinstatement needs, please get in touch ›