Home › Why choose us › We're progressive

Walton's progressive thinking
We seek continual improvement in every aspect of our business – from the design and set-up of the vehicles we commission and the way our work is carried out, recorded and reported, right through to the environmental credentials of the reinstatement mixes we use, and the carbon footprint of our supply chain.
We're driving innovations in our vehicle fleet
Our modern fleet of over 100 vehicles is constantly evolving as we retire models that no longer meet our needs, and commission new ones to be more efficient for ourselves and reduce the impact on the environment around us– including many built to our very own specification.
For example, we have moved away from augured Hotboxes (18 Tonne & 12 Tonne) and replaced them tipping variants for greater control and reliability.  A key factor is the inclusion of an independent side tipping spoil tray with a capacity of 2 tonnes.  We have further developed our 12 Tonne Utility Vehicle (Hotbox), learning lessons and developing it from our original prototype. We believe we have the perfect Utility Reinstatement vehicle that can carry 4 tonnes of  asphalt, along with all the plant, tools and traffic management required to complete the job, along with that all important spoil tray.
The Walton Way of thinking is that the fewer vehicles needed on site, the more efficient and environmentally friendly our operation, so we've developed this truck around the same dimensions as its standard 7.5t counterpart, but enabled it to carry double the volume of material.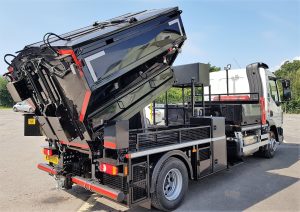 We're waving goodbye to paper and
welcoming real-time reporting
We're rolling out a new job reporting system whereby our site teams use mobile-enabled tablets to complete details that were previously recorded on paper. This enables the true real-time reporting of data about your job through our WorkWatch extranet.
Equipped with built-in cameras, our new mobile devices also allow us to take photographs and show clients the extent of required works, plus evidence of job completion and barrier removal.
We're actively reducing the environmental impacts of our work
We are signatories to the Waste and Resources Action Plan. We employ recycled material in our reinstatement works in accordance with Appendix 9 of the Specification for Reinstatement of Openings in the Highway).
Furthermore, improvements to our supply chain mean that we are reducing our carbon footprint by sourcing the right products and services at the best possible price from companies local to each of our depots.
We also give due consideration to the environmental credentials of our products and suppliers themselves, and to related issues such as the disposal of waste and packaging.

Read on to learn about our proven track record ›
To find out more about the progressive nature of our business, or to discuss your company's utility reinstatement needs, please get in touch ›